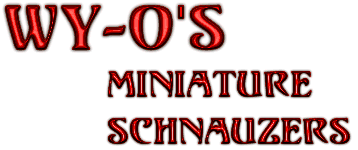 .
LIving in Meridian, ID, we've lived with and loved our Miniature Schnauzers since 1974. Our dogs are first and foremost our family pets who enjoyed being showdogs on a few weekends throughout the year. (successfully, I might add - 41 AKC Champions)

If you are looking for a great companion, it really does make a difference to find a happy, healthy puppy from happy, healthy, well bred parents. Pet puppies come from the same litter as show puppies, with our best care and thought invested in every single one.

We won't be having puppies anymore. We loved having them, but just have our two spayed girls now, as I've become more involved in judging. My best suggestion is for you to go to the website for the American Miniature Schnauzer Club - there is a lot of good information there, and a list of possible contacts for a puppy.

Look for clean, bright, healthy, outgoing -- and make sure that you have a written sales agreement so you can take the puppy to your own veterinarian for a "well-puppy" check up. If the puppy does not pass, please take the puppy back, get your money back, and keep looking.
In the meantime, we continue to offer our best advice on our pages here - please read through before adding any Miniature Schnauzer to your home... and Enjoy!

Owen and Wyoma Clouss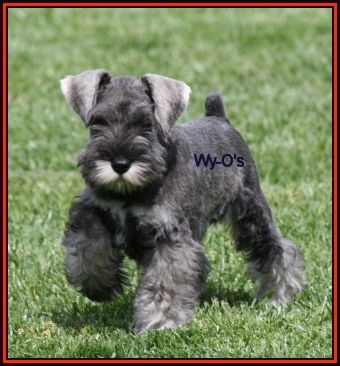 We were very honored to be invited to judge
in China at a Miniature Schnauzer Specialty in
Beijing and a dog show in Shanghai. It was a
wonderful experience, and so exciting to see
how well they are doing with their dogs.
Beijing in 2007
Shanghai in 2009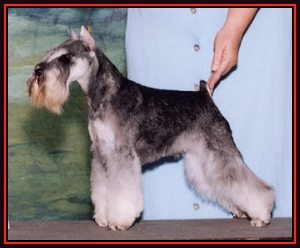 "Scout" finished his Championship title in June.