.
LIving in Boise, ID, we've lived with and loved our Miniature Schnauzers since 1974. Our dogs are first and foremost our family pets who enjoy being showdogs on a few weekends throughout the year. (successfully, I might add - 41 AKC Champions so far)
If you are looking for a great companion, it really does make a difference to find a happy, healthy puppy from happy, healthy, well bred parents. Our pet puppies come from the same litter as our show puppies, with our best care and thought invested in every single one.
Owen and Wyoma Clouss

Picking the Right Puppy Taking Care of A Miniature Schnauzer Puppy

Showing Your Schnauzer
Check Out Our Links


We were very honored to be invited to judge
in China at a Miniature Schnauzer Specialty in
Beijing and a dog show in Shanghai. It was a
wonderful experience, and so exciting to see
how well they are doing with their dogs.
Beijing in 2007
Shanghai in 2009

"Scout" finished his Championship title in June.

our memberships

American Miniature Schnauzer Club
Idaho Capital City Kennel Club (Boise, ID)
American Dog Show Judges, Inc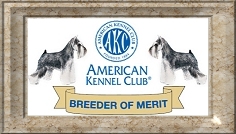 You know you are in heaven when all the dogs you ever loved run up to greet you !!



Boise's Weather

write us at clouss@wy-os.net
Retired from my other life: Speech Therapy
web page updated Oct 13, 2011
©Copyright 1997 - 2011 Wyoma Clouss: All rights reserved for photos and written material. You may not copy or re-use any material on these pages without my express written permission. .
---
---